That's committed to your

lovin

', ladies.
I've been poaching pics and laughs from Miss Julia
Segal
at
Skull Swap
a lot lately. That's where I got the pic of Mr. Right above.
Meme
blogs (That's what I call them, anyway) are something I'm just getting into and hers is one of my
favs
.
Riding has been stellar. Trails are in impeccable shape and I'm noticing tons of riders are really stoked for the upcoming season. Even some dyed in the wool roadies, who only dust of their mountain bikes once the last
crit
has been staged are posting up rides on
local forums
.
It's time to talk race schedule. My man
Yertle
has put together a
regional

velocepedal

enthusiast calendar
together and it's pretty concise and will be updated regularly. It's what I used to plan out when it's going to cost me to ride my bike and when I can ride for free to get fast enough to validate paying. Here it is. You'll notice that Bruce at
Hub Cycles
in
Truro
, NS has the
MTB
season opener this year with Victoria's Secret. I here, via Simmer and
Vo
2, the loop will be long and will have lots of new
singletrack
, if you were there last year.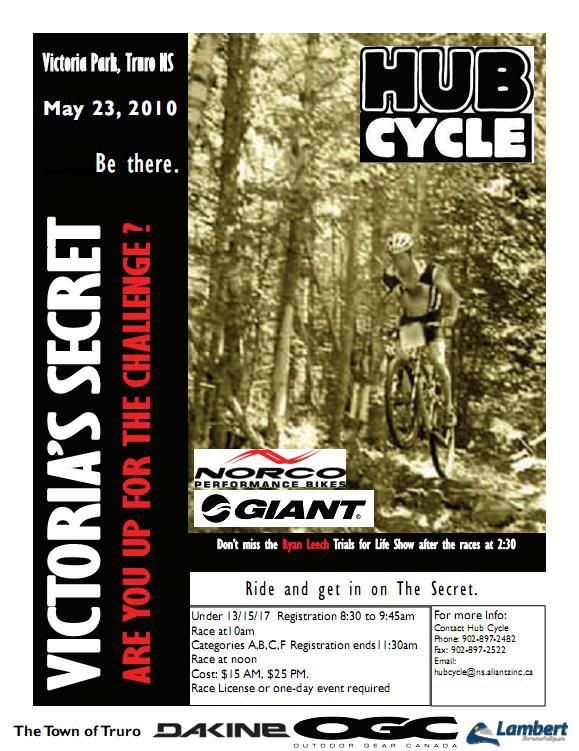 I try to keep readers abreast of local events and races and keep my ear pretty close to the ground, but If you have an event and would like to have it on here you should get in touch. I like correspondence with real people and swanky event posters.
Konarider
informed me of a neat contest for those of you who are very creative. If you don't know who you are check and see if you're using a mac. Okay. Is there an empty coffee cup near by? If you answered yes to both of these then you are, for all intent and purposes, creative. If you are using a PC and it's surrounded with tissues and lotions, you could probably be spending your time more productively.
The Nova

Scotia

Museum is looking for some suggestions as to how bikes can be raked in an artsy fashion.
Do your thing.
Lastly, before I post this well over due correspondence (the
innernettes
do not flavour with age). The Rick Hanson Foundation is getting ready for it's
Wheels in Motion
days across Canada (USA?). I got involved with this last year with a local YMCA team and it was a lot of fun and pretty damned enlightening. If you can find out if
your community is putting something on
, drop by and check it out. I did an extensive write up about last years, but I can't seem to find it. I'll keep looking.
Husslin' with flare.