Best laid plans my go awry
, but sometimes, when you load up the bike and head out of town on a whim it turns out stellar.
I finagled my way out of a Saturday night shift and hit the road for a short track race at the Dieppe Rotary Park on to raise some funds for the
National Cycling Centre – Atlantic Canada
. They got big plans to get some much needed work done to their Velodrome and every little bit helps. Either that, or they're going to have to change the regulations to allow track bikes equipped with suspension.
This is a risky move because given the local weather trends there is good chance I would wish I was at home on my couch instead of warming up for a 1hour + 1 lap afternoon race with a 12 minute dirt/mud time trial first thing in the morning. Not so! The sun came out, the racers were there (about 45 of them) and the mud, of course, was in attendance.
Frank form Fitworks was there serving up his specialty,
Grosse Sauscisse
, and Bud rolled in with the Coffee Can to spread the smoothie love. Afrow Craig was the sleeper of the day. With his reign of terror on Don's 69er he banged out 6th in the open TT and 2nd in the D cat over all. I didn't realize how much I missed the intense competition of short tack races. Sprintastic!
Here's a video
. It's not live but you can cheer if you want, like when people clap for movies. What the hell is up with that?
The only disappointment was the poor attendance for post ride wobbly pops. Everyone was heading out immediately for XC Nationals. Good luck, kids! Show 'em how we roll on the east coast; in the mud. Edit: Our man Stuart Wight took third at the Jr National 20km TT. Way to go! Must be the waffles he's scarfing down in Belgium. He's gonna kill 'em in the RR.
There's a debate as to how you can love mountain biking and not watch the freecaster.com coverage of the World Championships. Frankly, I don't see how I should be obligated to watch people I don't know try to ride their bike faster than some other people I don't know. I have recently given football a chance as a spectator sport (more for the hot wings than anything else) and there is no way in hell I will ever play. So, I'm gonna tune in for the live coverage of
UCI Mountain Bike World Cup in Mont-Sainte-Anne
, and maybe even a little T de F. We'll have to see how much I can get away with at work. Will I laugh or cry? Will there be thrills? Spills? Hot wings?
From the culture desk:
Gallerie Sans Nom
has got a show on with some ambitious folks who have accumulated some iconic pieces of Moncton's rich Punk/Rock history. It looks to be a lot of stuff from the late 80's to mid 90's, which just happens to be when your good buddy, Lucky, was struggling with his awkward years and a 100% bonafide gig-rat. I remember standing in the rain to see acts through the window of the Esquire tavern (every blue moon they would stop letting minors in for some reason). I got this picture attached to an email from Michigan Bolt at GSN.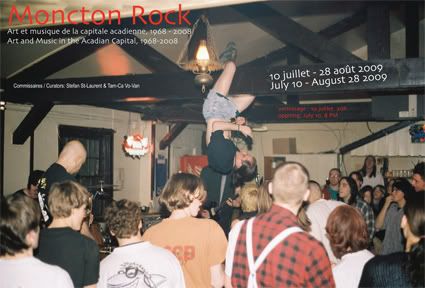 I look, did a double take. I think I was at that show. That is Batman hanging, (not an uncommon occurance at Bad Luck #13 shows) there are forlorn youth everywhere (again nothing unusual), but wait, there I am, in a rare long hair appearance from the glory years of Moncton punk. You think you can pick out the kid? Gawd Damn! These shows were fun. Check out the show if your in that end. You never know who'll you'll see hanging from the rafters.

For any female readers, Fitworks has installed a site just for you. It's quite pretty and you'd be surprised to what lengths people are willing to go just to get in on the action.
That's all I could scrape up for now. With all the rain, I mostly just cry lately and I don't think I'm ready to talk about that, yet. Speaking of crying, Foster and I are packing up for Conquer the Pass 100Km in Wentworth this weekend and I'll have full report on our return.